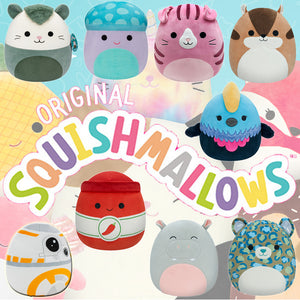 What are Squishmallows?
Squishmallows are the latest craze in the world of plush toys. These adorable, soft, and huggable creatures have taken the toy market by storm. With their squishy texture and cute designs, Squishmallows have become a favourite among kids and adults alike.
Why are Squishmallows So Popular?
There are several reasons why Squishmallows have gained such popularity. First and foremost, their super soft and squishy texture makes them incredibly comforting to touch and hold. They provide a sense of comfort and relaxation, making them perfect for cuddling during bedtime or while watching a movie.
Additionally, Squishmallows come in a wide variety of cute and colourful characters. From animals to mythical creatures, there is a Squishmallow for everyone. Collecting and trading Squishmallows has become a fun hobby for many, as each character has its own unique personality and story.
Meet the New Characters
In the 12-inch series, you'll find five charming characters:
Enos the Dark Green Leopard
Illia the Sriracha
Harrison the Grey Hippo
Melzie the Brown Chipmunk
Melrose the Cassowary
If you prefer a larger size, the 16-inch series offers three fantastic options:
Geraldine the Cat
Willoughby the Green Possum
Pyle the Mushroom

Why Choose
 

ElectricGemZ?

ElectricGemZ is a trusted name in the UK toy industry, known for our commitment to quality and customer satisfaction. When you purchase Squishmallows from us, you can be confident that you're getting genuine products that meet the highest standards of safety and durability.
Fast and Free Delivery
At ElectricGemZ, we understand the excitement of receiving your Squishmallows as quickly as possible. That's why we offer fast and free UK delivery on all orders. No need to wait long to start cuddling with your new Squishmallows!
Order now and experience the joy of Squishmallows!